Sandra Monterroso
:
Dyed in the wool - the committed poetics of nonconformity
Forthcoming exhibition
---
Gallery Exhibition
By appointment only (due to

COVID-19)
---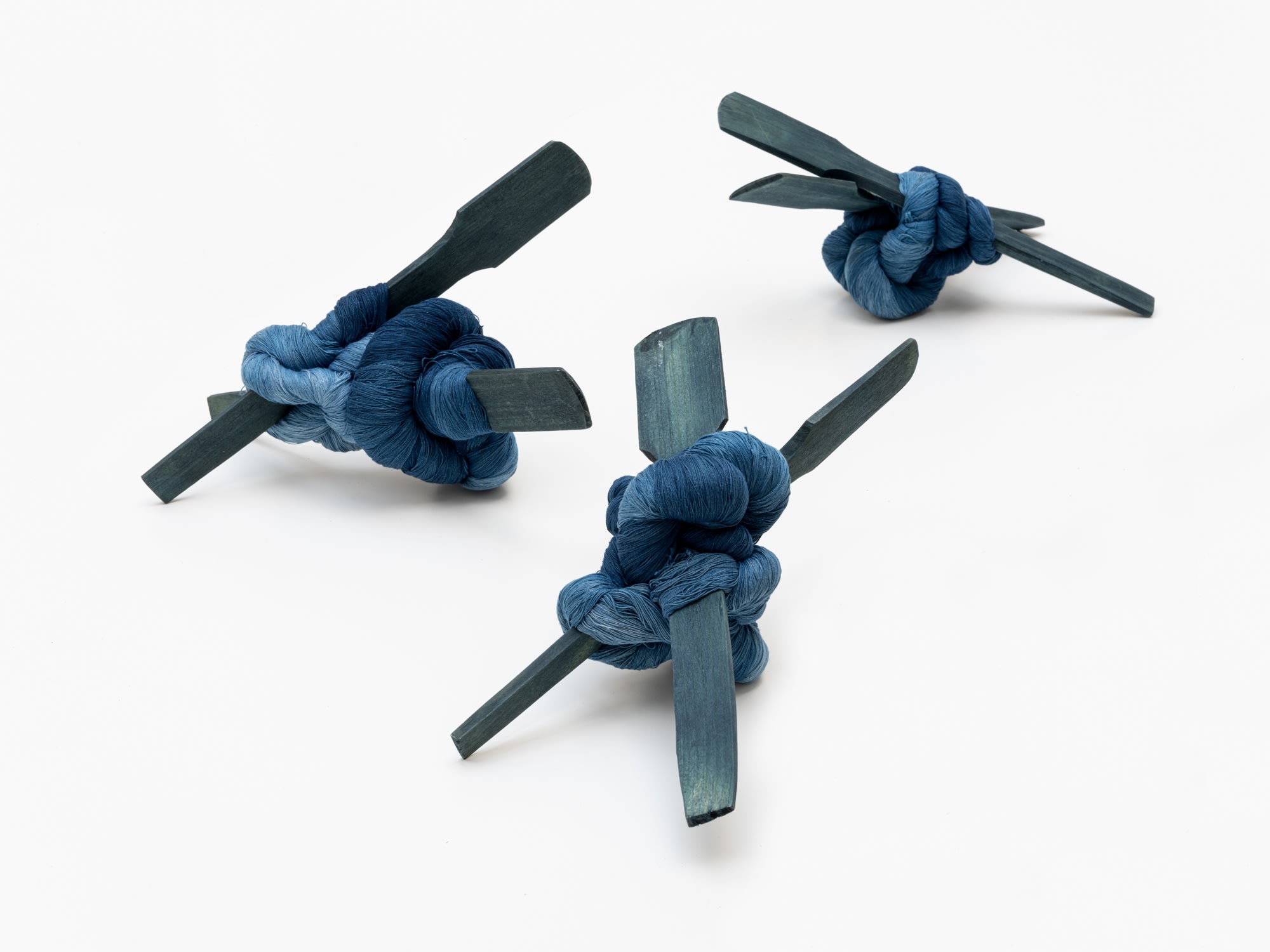 Sandra Monterroso, Crossed Effects 5, 2020, Indigofera dyed thread and wood, 30 x 25 x 18 cm
Cecilia Brunson Projects is delighted to present a solo exhibition by the acclaimed Guatemalan artist Sandra Monterroso, her first in the UK. Monterroso's practice ranges from video and performance to sculpture and drawing, bound together by her committed insistence to put Maya cultural practice and Q'eqchi' language in the foreground of her work. In this exhibition, as in much of her practice, Monterroso's work provokes conversations between different cultures. The work is produced in Guatemala; its production is embedded in the Q'eqchi' community, and it is now shown in London. The artist's work and research, is heavily invested in the need for a decolonial praxis in which different cultures can recognise their own specificity, respect each other's difference, and yet still meet each other as equals in conversation.
This exhibition will showcase her recent work in textiles, focusing on the works produced from dyeing practices deeply embedded in the Q'eqchi' community. The ritual surrounding the production of this work connects with ancestral roots—a lineage of indigenous knowledge that colonial powers threatened to obliterate—whilst underlining that Maya culture, Maya community and Maya practice exists today. The textile traditions throughout the artist's work are a thread through time from the ancient to the present, and they are wholly contemporary.
Monterroso does not make work for, or against, the homogenising aesthetic standards of the Western art world. She chooses to place her practice in dialogue —and often tension— with this world, by exhibiting across Europe and the United States, alongside South America. Recently her work has been acquired by the Museo Reina Sofia in Madrid as part of a donation to the museum by the collectors Jorge Pérez and Mario Cáder-Frech. Her work is held in collections at The Museo Nacional Centro de Arte Reina, Madrid; University of Essex, Colchester, United Kingdom; Museum of Contemporary Art and Design, Costa Rica; Fundación Ortíz Gurdián, Nicaragua and the Paíz and YAXS Foundations in Guatemala. She has had exhibitions in institutions such as The Getty Center, Los Angeles; Centre Georges Pompidou, Paris; Museum of Contemporary Art Santa Barbara, California; Museo de Arte Contemporáneo Havremagasinet, Suecia; Exit, Academia de Arte de Viena, Vienna, Austria.
The renowned writer and curator José-Carlos Mariátegui is curating a selection of the artist's videos to be shown in the exhibition.
Learn more about Sandra's work here.